A memorable episode of Dan Schneider's "Game Shakers" depicted Double G, the superstar rapper played by Nickelodeon legend, Kel Mitchell, coming to terms (and trying to hide!) his disdain for babies. But rest assured, Mitchell fans! Our beloved Kel LOVES babies; has two kids, now in their teens, and we're excited to confirm that there's a third on the way!
That's right, Kel's wife Asia Lee is expecting. The two announced the good news in a goofy and romantic way — on Valentines Day (romantic) wearing Good Burger hats (goofy, but amazing).
In the Instagram post, Kel wrote: "We have a bun in the oven! Thank you @therealasialee for being the best wife to me the best friend to me and now the best mom to our blessed baby!! I love you so much!"
We got a huge kick out of the orange soda, strategically placed by Asia's baby bump, where (in theory) the new baby could get a kick out of it too.
The happy couple recently celebrated their fifth anniversary, and the new baby will be Asia Lee's first. Kel has two daughters from a previous partnership, Allure and Lyric, ages 15 and 17! We hope all three share Kel's unstoppable sense of humor. If the world is lucky, maybe the new baby will inherit mom's rapping skills, too!
Depending on which shows you watch, it's hard to imaging Kel as anything but an orange soda loving goofball or a superstar rapper, isn't it? Heck, we sometimes forget that Benji Flores, Triple G on "Game Shakers," isn't actually his son in real life! But, it makes sense that Kel makes a convincing dad on the show, considering he has some great experience in real life, and is about to get even more.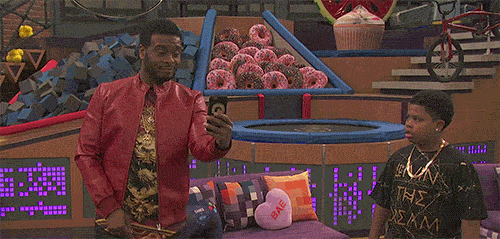 So if there's any doubt, Double G may be freaked out by babies, but Kel Mitchell almost certainly is not! Congrats and best of luck to this super talented pair!
"Game Shakers" is an American live-action sitcom, created by Dan Schneider, currently airing on Nickelodeon. The series stars Cree Cicchino and Madisyn Shipman as pre-teens that start a multimillion dollar gaming company and take on a rap superstar, played by Kel Mitchell, as their business partner. The series is produced by Dan Schneider, an American actor, TV and film actor, and producer.